Adventure Continues – Sailing the Cyclades, Part 2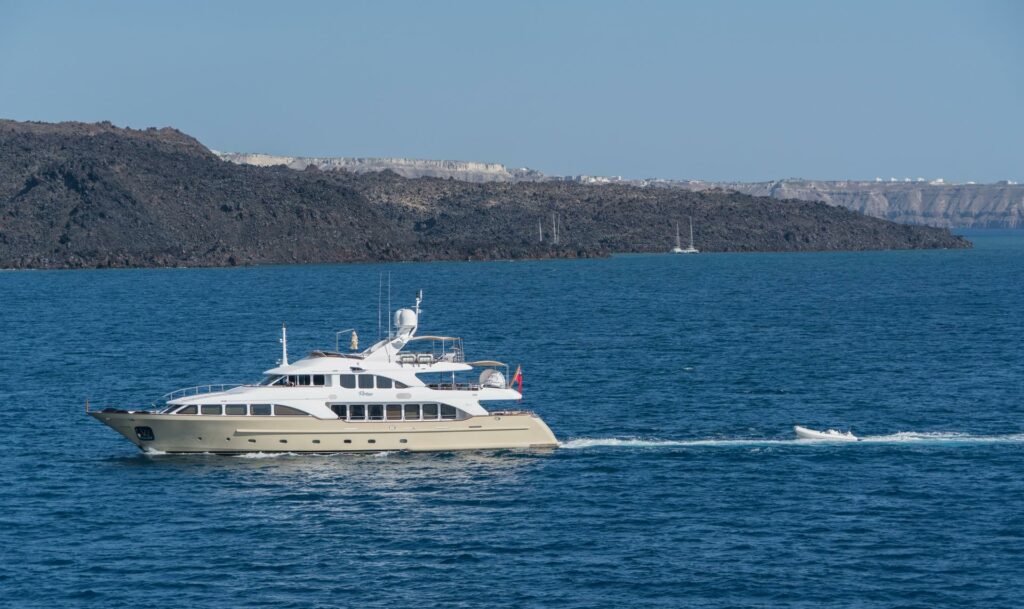 When we last spoke you were adjusting your back on a secluded Ios beach with perfectly granulated sand as your personal chiropractor. If you are still there, it is time to wake up, stretch your toes, and continue your Cyclades sailing adventure. If by some strange chance you are reading this from the comfort of your home or the discomfort of your office, it can mean only one thing – you haven't joined our turquoise pursuits from the very beginning. But don't worry, we are still open for new vacancies. Or better say vacations. So, put on your swimsuit and grab a towel, a hat and a pair of sunglasses. The rugged landscapes and smooth horizons of the Cyclades are waiting for you.
And off we go.
An off-radar secret
That is exactly what Antiparos is – a slightly lonely, private island, charmingly timid but enthusiastic to show all of its beauty to inquisitive eyes. Resting only 2 km away from its big brother Paros, this tiny perfect blend of rock and sand often gets left out on many Cyclades yachting or sailing routes. This is good news for you. The intense, rugged beauty of the place, wrapped up in a typically Greek relaxed atmosphere will be almost exclusively yours to enjoy to the fullest. You will admire the beautiful hora, feast on the most exclusive bites of local delicacies and rest in peace on its secluded beaches.
Want to ride a kite?
You can do it here. Antiparos beaches are beautiful and famous for kite surfing. Yet, the following more peaceful three have captured our hearts. And they won't let go:
Ag Georgios Beach – a perfect wild bay, untouched by civilization. The mere sight of this shimmery strip of sand stolen from the rocks will disperse any troubling thought in your mind. Swimming in the crystal waters will heal you. From head to toe, all over again, with every move your body makes and every wave that splashes on your skin.
Ubini Rocks Beach – perfection forged in fire. This beach is an insider's tip. A shocking combination of calm, sapphire water and volcanic formations that glow white in the sun. This place will lift your spirits and raise your expectations. What more could this Cyclades yachting adventure possibly offer?
Clay Pond Beach – an absolute delight to sail to. A wild place away from people, with a captivating azure coastline. You will love the tranquility of this beach. Its untamed rocks and shimmering waves will sweep you away to the promised land.
Cyclades yachting pit stop
Our next stop is a pit stop. An all-in-one island.
Ladies and gentlemen welcome to Paros.
Here, you have it all. If you are eager to stroll and enjoy the culture, you can roam Paroikia and fill your memory with the most vivid images of white houses, colorful flowers, blue shutters, pebbly streets and memorable churches. Those more adventurous can visit the Butterflies Valley by riding a donkey – a once-in-a-lifetime experience. If, however, you favor the gastro aspect of your Cyclades yachting trip, you will have the opportunity to dive into many taverns and restaurants in the town. We are in Greece, remember, and food is an indispensable segment of the overall pleasure this country is selfless to offer. We recommend you try fish and seafood in any of Paroikia's taverns. You will not regret it.
In case, beaches are at the top of your priority list, we have great news. You simply cannot make a mistake on Paros. All the swimming locations are absolutely beautiful. That is the thing with this place – it will never disappoint you. Nevertheless, we do have a friendly tip.  Check the small islands across Paroikia. After all, you are yachting the Cyclades. The whole point is to move and see places not many other people have the opportunity to.  And to enjoy every single minute of such movement.
Take it from a professional
There is one more catch. If you want to move safely across the sea, your vessel needs to be in good shape. That is why we, more experienced sailors, love Paros. It has a perfect pit stop marina. Any damage or problem on your boat can be solved here. Also, you simply have to be in your best shape when going to Mykonos. This festive little devil demands it.
Put on your shiny clothes
The Greek Ibiza, the Little Venice, the battlefield of Hercules and the Titans, you name it.
Or just say the word. Mykonos.
It is difficult to put this island into words. It is a heavy contrast of everything, somehow resulting in a sublime attraction. The place is famously luxurious. The restaurants, the bars, the shops – all are distinctively modern and persistently reflect the wealth of the people who come. Not many places in the world can boast of being so stylish and posh. Truth be told, Mykonos is the ambassador of show-off. So, if you want to make the most enviable photo for your social media, come here and pose on one of many gorgeous party beaches. Show how cocktails and strong Meltemi winds soothe your body and soul on this prestigious drop of rocks in the Aegean sea. This item on your Cyclades yachting to-do-list will do wonders.
Yet, despite all the partying and excessive expenditure, the island is also astonishingly romantic and mystic. You will explore the lovely streets of Little Venice, admire the ancient windmills and stand on top of the place where Hercules put to rest the mightiest creatures in Greek mythology. This will awaken your senses and arouse your strength.
Mykonos does that. It relaxes and ignites. It intoxicates and sobers. It will make your pockets empty but your soul will be full. And your memory of the island unfadeable.
The many-faced island
This is the last point of your Cyclades yachting adventure.
Meet Syros, the capital of the Cyclades. The perfect fusion of contrasts.
The contrasting duality of the island is beautiful and visible everywhere but mostly in its largest town, Ermoupoli. This cosmopolitan capital is an active living blend of different cultures, religions, and architectural styles. It rests on two hills. The lower is neoclassical, beautifully monumental and overlooked by a splendorous Orthodox church, while the upper is typically Cycladic with charming white houses and several Catholic monasteries. That is what you get when colorful Venetians mingle with medieval Greeks; the most vivid mix of two beautiful civilizations.
Along with the obvious astonishing beauty, this city offers extraordinary good nightlife. Another duality, one wouldn't expect. This town is very much alive but more pleasantly so than Mykonos. People of all generations will easily find entertainment here. The food, the music, the restaurants and the bars – all are simply exquisite. This is one of the Syros' faces we love most.
Your Cyclades yachting adventure ends
On Syros beaches. That is where the duality of the island stops. Watch out for this info. Every single beach on this island has been awarded the Blue Flag, the highest European reward for clean beaches. So, you just have to pick any of them and enjoy. We recommend these three:
Παραλια Διδυμη – a vacant turquoise paradise.
Paralia Varis – a smooth getaway with brown sands and excellent bars.
Komito Beach – golden sand bay with natural shade.
This is where we leave you. In paradise. With your eyes set on the blue horizon and your mind whirling with plans for a new adventure. Your Cyclades yachting trip may be finished, but there is so much more of Greece to see. We will spread our sails soon again. And we will do it together.