Sailing to Kioni – from Greece with love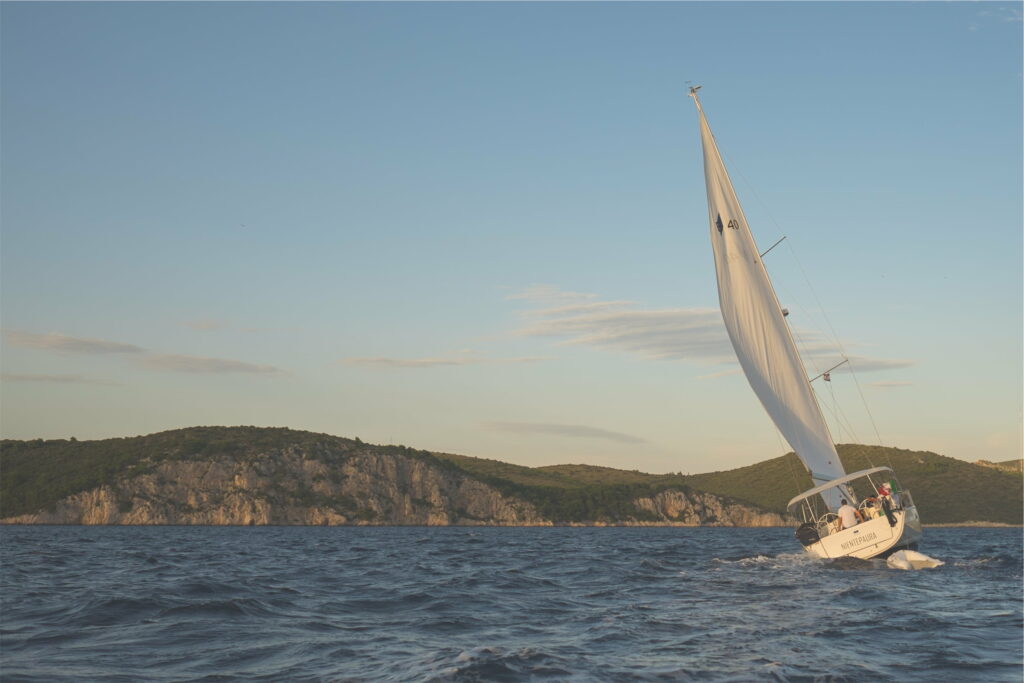 Let us tell you a secret. Sailing is all about feeling free. Once you plunge your prow, you will lose yourself in the blue. Everything will disappear – your fears, your troubles, and all your thoughts. There will be nothing in your head but the sound of wind whistling through the ridging. With your eyes set on the horizon and your hand firmly holding the rail, you will reach nirvana in a second. And then, all of a sudden, you will find yourself again, maybe in a dreamy little Greek village such as Kioni.
Falling in love with Kioni
Seeing Kioni from the sea will be love at the first sight. It is a bay in a green mountain, holding a safe harbor and a lovely little town growing uphill. You will see colorful fishermen's boats bobbing about the bay, an amphitheater of red-tiled roofs making patches in a blanket of olive trees and white masts and dark green cypresses sticking out towards the bluest skies. A peculiar sensation of both thrill and pleasure will fill you as you tie your boat and step out ready to explore this flowery-scented bundle of houses and taverns.
Realizing why
Even when you try to be realistic about it, you will find that there is no reason not to fall in love with Kioni. Not only does it look captivating but also has so much to give. To start with, it is a most welcoming place for inquisitive guests coming with spread sails. You will know this when you see that you do not have to dock in the town to fill in the water. Your Kioni hosts have spread a hose along the bay, for you to use as you please. Most boats are tied to the rocks, with their stern turned to the mistral.
All this means that you do not have to hurry to find a free place in the harbor for your vessel. If it gets really crowded, you can anchor in the middle of the bay or tie to the ferry dock after 20h. This is indeed a first-class conformity for all who sail. Kioni, we love you already and we do it for a reason.
Now that we have tied our boat, and feel safe and sound, we can lose the pragmatism and get back to senses.
Enjoying the relationship
There are so many things to enjoy doing in Kioni. It is an authentic piece of Greece. You can roam its narrow streets and admire the beauty of the well-maintained white houses, adorned with pots of flowers. Or, you can take a walk to the church of Agios Ioannis (St. John) built in the 18th century and admire its famous altar carved in wood.  In the meanwhile, you can also have a great time swimming since the water is crystal clear despite the boats. You can even decide to walk to the windmills, the landmark of Kioni, and take a look around these stone monuments of centuries past. And last but not the least, you simply have to visit the restaurants and taverns.
Being called an authentic piece of Greece intrinsically implies an abundant offer of tasty food mixed with charming sounds of national music. Kioni aces in this aspect. Restaurants and taverns are many, all cozy and pleasant with mouth-watering menus.  But one stands out. Restaurant Calypso – a family-run place on the shore, with excellent food and an even better atmosphere. You will leave this place with both, your stomach and your heart full.
Farewell, Kioni
Parting is such sweet sorrow. These are the words of Julia, saying goodbye to Romeo. The great Shakespeare knew how leaving felt, and so will you when you spread your sails again, longingly looking over the old watermills on the shore as you depart. Yet, the parting is sweet. You are sad to go, but happy to know that you will come back. And you most certainly will. Because sailing to Kioni is pure love and that is what we all return to.