The Circle of Marvel – Sailing the Cyclades, Part 1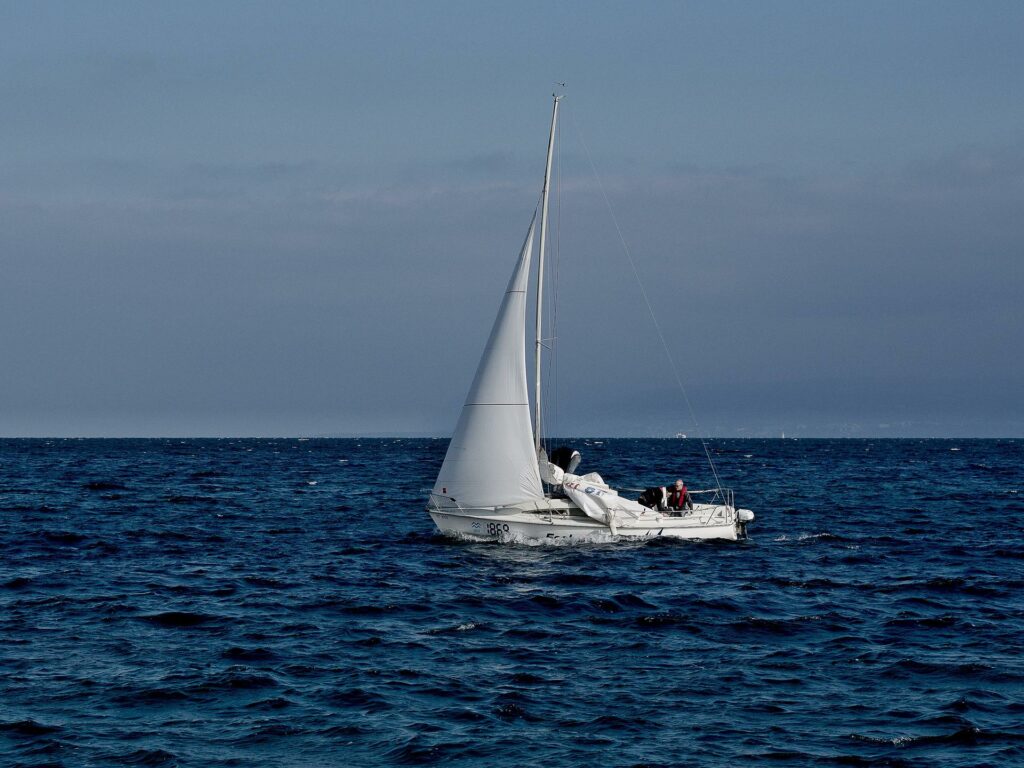 Sailing the Cyclades. There is a strange parallel lingering between how the phrase sounds and how the actual experience feels. The word Cyclades is difficult to pronounce. You spontaneously stop for a millisecond and think before opening your mouth. Similarly enough, sailing these islands is not a fun ride for sailing rookies. It is a heavy lift. The islands are much apart, seemingly even more so when strong Meltemia wind is blowing. The currents are strong and the shorelines rocky. Yet, the reward you get for your "troubles" is mind-blowingly abundant. You will tour the most marvelous circle of Aegean gems, famous and hidden, welcoming and shy, each more fascinating than the other.
After all, life is not about waiting for the storm to pass, but learning to dance in the rain. And you have just stumbled upon true ocean gypsies to take you through this exceptional escapade.
So no, sailing the Cyclades is not for everyone. Luckily enough, that is not who you are.
Let's go.
Cyclades sailing – the importance of knowing where to start and where to stop
As we have already said, from the technical aspect, this journey is not going to be a piece of cake. A piece of heavenly splendor is what you will get when sailing the Cyclades, but you have to be well-prepared. In that context, a choice is presented to you right at the beginning – where to start your journey from:
Athens i.e. Piraeus port – Europe's biggest passenger port, or
Laurium – also known as Lavrio, Lavrion, or Lavrium, a smaller yet vivid and very equipped marina
Fortunately, both options will meet your requirements. The vessels are many and what's more, the distance between the two marinas is approximately 60 km, meaning you will waste no time in any case. Laurium would certainly be a better solution for those who dislike the crowd.
Where ancient rocks stand still – the first stop on your Cyclades sailing
Curiously enough, the first place you will visit on your Cyclades yachting adventure is actually not located on any of the islands, but rather on shore.  But don't feel let down.  Sounion is there to remind you where you have come to, to lift your spirits and to make you eager for more.
Sounion is a small bay, with a lovely comfortable beach and rocky surroundings covered in conifer trees. However, you will not be there for the pleasure of swimming, but rather for the sight of a wonderous stone structure dominating the hill – the Temple of Poseidon. Standing peacefully as a reminder of the Greek supreme influence in the development of modern civilization, these monumental colonnades will leave you speechless in awe. Just imagine – a 30 m long row of massive, over 6 m high marble columns built 400 years BC, on the remains of a previous, even older temple. That is sheer history hovering before your eyes in all its beauty and persistence. You will love the feeling. And the stunning sights of the Aegean, stretching before you as you stand in front of the temple. You will feel closer to the Gods than ever before.
Going even deeper into the history
Hundreds and thousands of years BC. That is how far back the Greek stories of gods, heroes and monsters date. Cyclades sailing had a crucial role in one such story. It happened precisely in Sounion when a pair of black sails caused an accidental death and gave the name to the Aegean sea.
Namely, Theseus, a brave hero and a son of the King of Athens, was coming back from Crete. He forgot to put on the white sales as a sign of him coming back alive. After spotting the black sails, his father Aegeus leaped to death and drowned himself in the sea. This is how the Aegean sea got its name. In a small almost unknown bay named Sounion. Not bad for this tiny bit of sand below a cliff.
The first two diamonds of your Cyclades sailing crown
Let's go to the islands. The first two you will visit when sailing the Cyclades are Kea and Kithnos. Consider Kea as an introduction. It is a small, atypical Cyclades representative. To start with, it is less famous than its bigger brothers, the picturesque Santorini or luxurious Mikonos. It is a charming, peaceful island and a favorite getaway for the mainland Greeks. You will love sailing into its main port, Coressia, a pebbled beach with almost a canopy of tucked white houses and fruitful orange threes shining between the walls. If slow rhythm and stillness are your thing, you will be at the right place. Kea and Coressia are just a perfect break before sailing the Cyclades further south.
The exotic, the wild and the traditional – a-3-in-1 Kithnos
The essence of sailing is indulging as many of your senses as possible in one particular moment. It is the pleasant and strangely calm thrill of what you hear, see, smell and feel on your skin at the same time. Truth be told, Cyclades sailing and seeing the Paralia Kolona beach on Kithnos for the first time is a promise of paradise unveiling before you. It is what Las Vegas is to a gambler or Milan for a fashion model. A dream so close, you can almost touch it.
Paralia Kolona is one of the most famous Greek beaches. As you know, the competition is heavy and almost innumerable.  It is a ribbon-shaped white sand beach, stretching between two towering cliffs on both sides. Crystal waters sparkle in the sun, in all their brilliant turquoise shades. The water and the sand connect seemingly, making a perfect blend. What adds to the overall exotic wilderness is the fact that, due to its shape and the surrounding, Paralia Kolona looks like there are two beaches. It resembles a strip of sand splitting the sea into two, to connect the surrounding rocks, with a bonus of being able to swim across it. A true wonder of nature indeed. And you will get to feel it.
Horas – a reminder that Greece's second name is tradition
Your Cyclades sailing adventure will give you the opportunity to sea horas. Kythnos will be the first island where you will get introduced to one.
Horas are capital towns typical for the Cyclades. They are always located on the highest point of the island, for strategic reasons – it is easier to spot enemy sails. So, in order to get there, you have to tie your boat and stretch your legs.
You will find the horas absolutely lovely. They have dazzling white houses with blue window frames, an abundance of flowers, remarkable little churches and pebbled narrow streets guiding you to the most stunning views of the Aegean and the surrounding area. All the whiteness and the tightness of horas have a clear purpose – to reflect the sunlight and keep the interior of the town as cool as possible. This is to say that they were not built to be beautiful, but you will find both beauty and pleasure in abundance in these ancient little towns where every stone has a meaning and a purpose. So, tie your boat in lovely Merihas and set off for a meeting with ancient tradition.
The last stronghold of the Cyclops
Another chapter of your Cyclades sailing story starts with a myth. But this is Greece.  Stories surround you wherever you step. Or sail to.
So, after 2-3 hours of successful conquering of the Cyclades' winds, you get to Serifos, the home of the Cyclops. According to a legend, these powerful one-eyed creatures abided in the Serifos caves. The myth and the history have an intersecting point here. Cyclops were said to be strong-willed and unpredictable creatures but skilled blacksmiths and metalworkers. In reality, Serifos Island is full of old mines of iron, lead and silver. What is more, the very name of the island means "mine" in Greek. Coincidence or not, it is thrilling to imagine these ferocious sons of ancient goods establishing industry in the rugged landscape of this beautiful island ages and ages ago.
Now, let's shift back to the present and your Cyclades sailing experience. Serifos is worth stopping on for several reasons:
Livadi – a beautiful bay village hidden below a concave slope. Here you can have great food in a laid-in atmosphere and do what Greeks do best – enjoy.
Hora – a stunning ancient town only 30 min walk away from Livadi. One of the most beautiful horas on the Cyclades with a great view of the Aegean.
Many lovely bays – here you will swim in pristine beauty. Untouched by mass tourism, the island offers exquisite swimming locations. The absolute lack of any hustle will enchant you.
Cyclades sailing and two dazzling white pearls
One should be a schizophrenic combination of a drama queen and a 18th century poet to be able to properly describe the rugged beauty of Sifnos and Milos. These islands are two white pearls plunged from heaven to embarrass the rest of the planet.  One boasts of staggering architecture, the other of breathtaking nature.
Why pearls? Well, in the case of Sifnos, it is because of the astonishing number of those typically Cycladic ice-cube houses divided only by the narrow, winding, also white streets. You have never seen something like that. They make the island shine. You will glow with happiness among them too. Sifnos also has excellent cuisine and a lively and party-ready hora. However, what we as sailors like most is Kamares. A beautiful little village with a dreamy beach where you can anchor your boat and spend a day without any need to move further. Ever.
Dazzling beaches are what makes Milos pearly. The island has the most magnificent white volcanic rock formations and insanely clear water. The two combined give otherworldly places for swimming. Sailing to Adamantas, a sparkling white port town that will draw you to roam its streets and taverns, and then spreading your sails and going to Kleftiko, one of the top Greek attractions ever, is a one-of-a-kind experience. The dramatic scenery of the latter will blow your mind.  The salty Aegean breeze will take you to astonishing, strangely-shaped white cliffs and caves splashed by the cleanest and the most transparent water you ever saw. You will stand amazed and be awestruck. And then, you will have the swim of your life. This moment of your Cyclades sailing is something you will cherish for as long as you live.
The brightest star in the galaxy
Many times, it is enough just to say the word. Santorini.
This place is one of the most famous touristic destinations in the whole world. We believe the situation in this aspect will not change any time soon. At least not until mass tourism develops on the Moon.
Anyhow, you probably know what town Thera looks like. It is a hill overflowing with gleaming white houses, one over the other. What you don't know is how it feels. Your prow will cut through the sapphire waters. You will feel the wind in your hair and a shiver on your skin as you approach it. And it will seem a tight kaleidoscope of white and occasionally blue butterflies is rushing down the steep slope to land on your face. To kiss you. And say you are welcome. It's magical.
So, the fame of the place is not undeserved. However, sailing the Cyclades to Santorini imposes some difficulties. Namely, the water around the island is too deep. This means you cannot anchor. The marina is full of big yachts and privately owned buoys. So, what we do, or you can do if you sail yourself, is to find a way to tie your boat.  We give you 3 pro tips: leave the captain on the vessel as the others visit the town, wait to see the sunset, and sail to Ios to spend the night.
The sun sets and the party begins
Ios is known as the Island of the young.  Here, you can easily dance the night away under the stars. However, irrespective of your age, Ios will awaken and rejuvenate you. It simply does that to people.
Apart from the excellent nightlife, Ios has an utterly beautiful hora. It is big, vivid and crammed with cozy restaurants with offers to pamper your palates. The taste of local vines with traditional delicacies and fresh seafood will leave you eager for more. The overall atmosphere is relaxed and comfortable. You easily start feeling like you belong there. As if you were born to come and stay.
To finish this part of your Cyclades sailing adventure, we will say that Ios does not lack beautiful beaches. There are many. One of the most beautiful is Paralia Milopotas, a long sandy strip of paradise for ultimate relaxation and pleasure.
We will leave you here, in a shade of an umbrella, with your heels stuck in the warm powdery sand. Your boat is on the blue horizon, waiting for you to recharge your batteries a bit longer before continuing your Cyclades sailing journey. Rest for a bit longer. See you soon on Antiparos.